If you've got a blog less than a year old, then today is a great day for gaining some new followers!
Cookies & Clogs
has a linky for new blogs
HERE
. Check out her super cute button too! Makes me want to go wake up my little lady right now and give her kisses :)
And today is also Twitter Hop Thursday over at Little Yaya's! Twitter Hop Thursday is a GREAT way to add new followers on Twitter.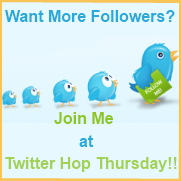 Happy Thursday to all the Newbies! (myself included :) )