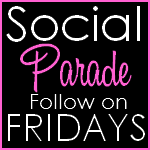 Social Parade Follow on Friday Blog-Hop
is a weekly link-up hosted by
Smart and Trendy Moms
. We created it for socializing and to get new followers, subscribers, readers without feeling overwhelmed. Every week will be a new link-up that will focus on following blogs.
And don't worry you do not have to carry this button or any button of ours on your side bars. Your blog sidebars are great real estate and we respect that : ) The button needs to be posted in your participation post only.
How it works-
Follow Smart & Trendy Moms and Grab the link-up button and post It's a Social Parade-Follow on Fridays on your blog!. Every Friday a new linky will be posted.
Happy Friday and welcome to Ten Talents! If you're new here, I invite you to check out the
Low Entry Lowdown
, where I list several different low entry giveaways from different blogs. You've got great chances to win something while helping out fellow bloggers, and you're also welcome to email me if you've got a low entry giveaway you'd like me to list on the LEL.
You might also like the
Twitter party calendar
in my right sidebar under HOME. If you're new to Twitter parties, you can check out my attempt at a tutorial,
Navigating the Fun (and Sometimes Confusing) World of Twitter Parties
. If you need some incentive, check out an old Mailbox Monday where I show what I won at Twitter parties
HERE
.
And I've got two giveaways going on right here on Ten Talents!
1) Juppy Baby Walker (ends 8/16)
2) $25 Safeway gc (ends 8/19)
Thanks so much for visiting, and please let me know if you're a new follower so I can follow you back!
Blessings,
Stephanie