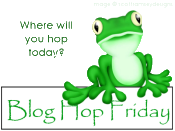 Hi! Welcome to my Follow Me Friday, New Friend Friday, Blog Hop Friday, and Friendly Friday Follow Blog Post! Whew! That's a lot! This is only my 3rd Friday as a blog hopper, and I'm really learning a lot and meeting a lot of new people. I am currently in China with my husband and baby girl, though we are heading back to the US in mid-June to start remodeling the house we bought from 1889! Yep...that says 1889...no typo :)
I've been working on two little projects--"
Twitter Party Google Calendar
" and "
The Low Entry Lowdown
"--so I hope you'll look around and see what they are all about! Thanks for visiting and let me know if you're a new follower so I can visit your site and follow you back!
Blessings and Happy Friday,
Stephanie